The Positive Birth Program
The signature program by Hypnobirthing Australia™.
Want to know why I chose to train as a Hypnobirthing Australia practitioner?
There's a whole world of Independent Childbirth Education programs out there. I've even designed and run one myself (still do!). So why add the Positive Birth Program to the mix?
Well, ever since my first bubba was born, ever since I became a doula- I have been passionate about Childbirth Ed. So you had better believe I have solid reasons for why I teach what I do and how I do.
First off, with my background in education, lifespan development and support services, which has now led me to studying psychology Hypnobirthing was the right approach to birth for me to teach. The focus on creating new neural pathways, understanding how the brain works, using strategies to decrease fear and to communicate with the subconscious mind- makes so much concrete sense to me. And I've seen it make a real difference to birth experiences.
The fact that this program doesn't just stop there though, that it is so broad and comprehensive in teaching strategies for birth, that it supports birthing parents AND birth partners/ companions, that it discusses natural approaches and medical options. It's an open-minded, inclusive program that allows for the individual values of those who take part to be respected. I bloody love that.
And of course… it seems a small point… but I adore the birth videos in this course. I love showing them to couples and I believe it makes such a difference to their perspective on birth. Plus I don't at all mind watching them over and over myself…
Secure your spot in my next Ballarat-based group course now to see what I'm hyping up so much! Or reach out and check the FAQ below to get all your questions answered.
Next Group Course in Ballarat:
15th and 22nd August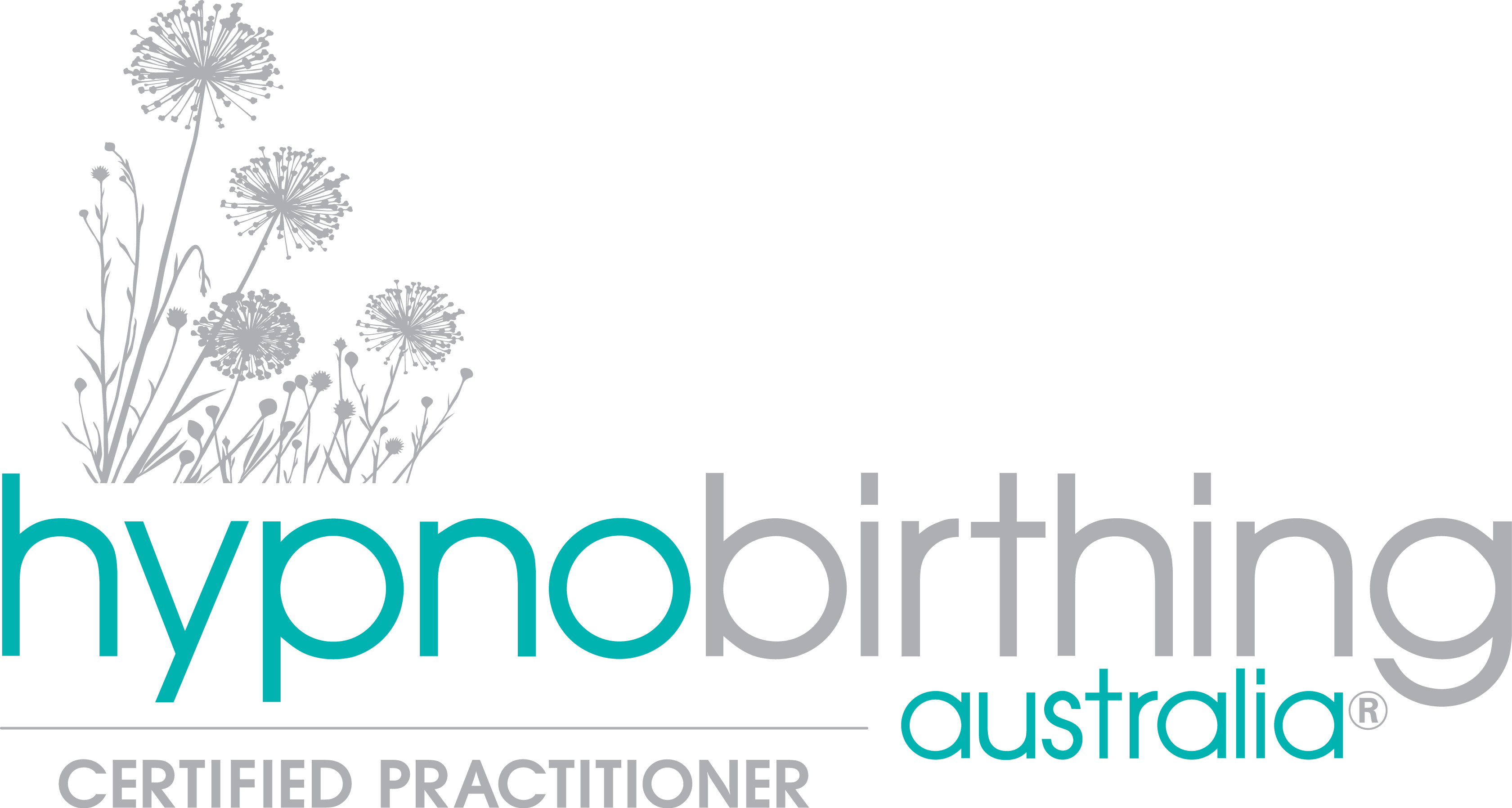 What is Hypnobirthing?
Hypnobirthing is as much a philosophy of birthing as it is techniques. When a mother and her birth partner are able to approach their birth without fear and with knowledge, good support, and tools for the birth – then their birthing can be a positive and empowering experience.
The 'hypno' part of 'hypnobirthing' refers to the hypnotherapy that we use during the program to release fears and condition ourselves to release endorphins at times during our birth. With the help of hypnotherapy, the birth of your baby can be a more calm and relaxed experience; one where you are in the driver's seat, rather than feeling like a passenger. This is likely to reduce the need for interventions during your birthing.
Hypnobirthing uses a combination of different techniques and philosophies that have existed for many, many years. Ancient wisdom is combined with modern theory – giving you the advantage in your acquisition of knowledge as you prepare for your birth. 
Natural birth is not a new concept! Our ancient mothers and sisters birthed naturally without the use of anaesthesia or many of the interventions that are common today. The Hypnobirthing Australia program can help you to prepare for a calm and positive natural birth; whilst at the same time having the knowledge and tools to effectively deal with any special circumstances if they were to arise.
In the following video, Hypnobirthing Australia™ Director, Melissa Spilsted explains a little more about the program:
Why choose the Positive Birth Program for Childbirth Education?
Hypnobirthing Australia's Positive Birth Program teaches a childbirth method that focuses on preparing parents for gentle birth. In hypnobirthing classes, you will learn proven techniques in a well-thought-out program of various natural therapies and approaches for birth, deep relaxation, visualisation, and self-hypnosis. All of these are designed to help you achieve a more comfortable birth. Hypnobirthing encourages a calm, peaceful, and natural pregnancy, birth, and bonding experience for families.
We focus on the joy of birth and positively anticipate our birthing day. When people understand that pain is caused by constrictor hormones (created by fear), they learn to release fear and create endorphins instead. Endorphins are the 'feel good hormones' that we naturally produce when we are calm and happy. We also change our perceptions. Instead of thinking of a 'long, painful labour' – we replace this thought with expectations of a more comfortable birthing.  This allows us to achieve an often shorter and more comfortable labour for birthing person and baby.
What is the $$ of the course?
You have the option of booking a Group Course which are held regularly in Ballarat, or a Private Course held according to your availability in the comfort of your own home. I absolutely love teaching either way!
Positive Birth Program Group Course — $495
Positive Birth Program Private Course — $849
*Terms and Conditions*
At time of booking, a $150 non-refundable deposit (+ processing fee) and return of your enrolment form is required.
Additional payment details are provided via the course enrolment form which will be sent to you via email once your booking request is received.
Full and final payment of the total course cost is due 7 days prior to the course start date and regrettably is also non-refundable once paid regardless of attendance or non-attendance. 
What's Included?
Your investment includes:
12 hours of relaxed, engaging, informative and fun classes
A gorgeous Hypnobirthing Australia book which revisits and extends on everything we do in class
Answers to your burning questions!
A Birth Partner Cheat Sheet!
A wide range of Hypnobirthing Australia Downloads – Meditations, Guided Self-Hypnosis, Birth Rehearsal, Music, Affirmations and more
Evidence-based research documents
Support and ongoing contact with Annie after the conclusion of the course.
No judgement!! And no single 'right way'.
I'm in! How do I secure my place?
So glad you're on board! In order to secure your place in either a Group or Private Course, a $150 Deposit is required. I will then reach out via email to supply you with your enrolment questionnaire and course info, get to know you a little better and to lock in your preferred dates!
Click the button below to place your deposit and get the ball rolling! 
I've already done hospital birth classes, is the Positive Birth Program relevant to me?
Hospital birth classes are a good resource and can teach you a lot about what the experience of birthing in a hospital will be like.
However, the Positive Birth Program is designed to give pregnant people and birth partners the tools, information and confidence they need for making choices about their own birth experience. While a hospital class can give you some great insight into the place you will be birthing (if you are birthing in a hospital that is), our program is about more in-depth information about the experience and approaches to birth itself.
When should I start Classes?
Between 25 and 30 weeks of pregnancy is generally the best time to begin classes. However, this is in no way a rule and I have previously very happily taught couples both earlier and later in their pregnancy.
Will this course help my Birth Partner?
Absolutely! The content of the Positive Birth Program is targeted at both pregnant people AND their partners. Birth can be quite intimidating for partners, especially if they have not acted as a birth support person in the past or if they had negative feelings about a previous experience. Much of the course involves tools and skills for birth partners to use at birth as well as open discussion throughout. The knowledge partners gain in class offers them a much greater sense of confidence and empowerment going into the birth space. Many couples say the birth partner gets just as much from the course as the pregnant person, sometimes more!
What is the 'hypno' part of Hypnobirth?
The Positive Birth Program teaches some approaches which allow pregnant people to engage in self-hypnosis. This means you learn to guide yourself into a state of deep relaxation, enabling a calmer experience of birth. No one 'hypnotises' you and the experience is completely within your control at all times. This is also just one of many strategies you will learn as part of the Positive Birth Program.
Will this program support me if I need or want to have a cesarean or other medical interventions at my birth?
Yes! The Positive Birth Program is about just that- a positive birth experience. That means something very different to different people and that fact absolutely needs to be respected.
If you choose some or all medical interventions for your birth, or if you do not initially choose them but they become a medical necessity, this course is designed to ensure that you still have the skills to remain calm and to make empowered, informed choices throughout labour and birth. This gives you a much better chance for a joyful, positive birth, regardless of how that may look from the outside.
Are Payment Plans Available?
Definitely! While my policy requires payment on all courses prior to the commencement of the program, I am more than happy to set up a payment plan and to take into account individual circumstances. I believe this program is truly invaluable and I endeavour to make the payment process as easeful as possible for everyone who wishes to participate.